© 2020 Jerry D. Patillo
If you're a real worlder — someone who believes the earth is an oblate spheroid (click on the links for definitions), rather than being round and flat like a pizza — maybe your itinerary of the real-world southern hemisphere would look something like this:
Sydney, Australia (SYD)
Santiago, Chile (SCL)
Johannesburg, South Africa (JNB)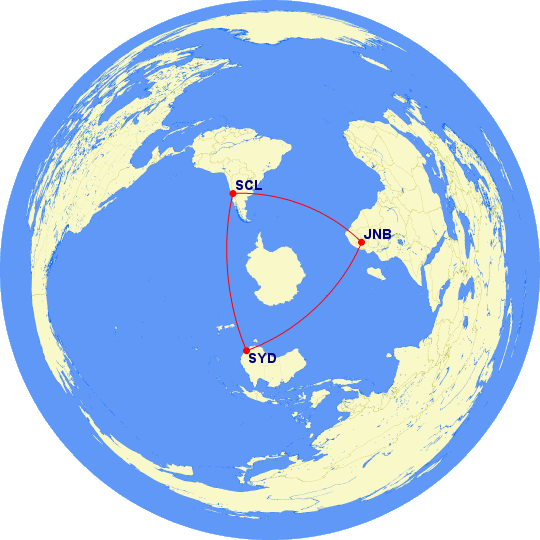 Wow! We flipped over this round, flat pizza called Earth, and what did we get? A big messy pile of pepperoni continents, veggie countries, and cheesy oceans on the floor?! No! We got a real map of the southern hemisphere of the real world! (To be precise, it's an azimuthal equidistant projection of the real world, centered over the south pole [90° south 45° west].)
You could actually do nonstop flights between the above origins and destinations, but they would be really long hauls:
SYD-SCL 14h 37m, 7060 miles
SCL-JNB 11h 58m, 5733 miles
JNB-SYD 14h 13m, 6862 miles
Total: 40h 48m; 19,665 miles (actual flying time, NOT including stopover times!)
[flightmath.com, accessed December 2020]
We could shorten up the flights a little by splitting them up a little. How about the following itinerary, as an example?
SYD-SCL

SYD-AKL 3h 11m, 1345 miles
AKL-IPC 9h 16m, 4382 miles
IPC-SCL 5h 10m, 2336 miles
Subtotal: 17h 37m, 7963 miles

 SCL-JNB

SCL-EZE 1h 55m, 709 miles
EZE-CPT 9h 5m, 4288 miles
CPT-JNB 2h 5m, 789 miles
Subtotal: 13h 5m, 5786 miles

 JNB-SYD

JNB-TNR 3h 9m, 1328 miles
TNR-PER 9h 7m, 4311 miles
PER-SYD 4h 35m, 2040 miles
Subtotal: 16h 51m, 7679 miles
Total: 47h 33m, 21,428 miles (actual flying time, NOT including stopover times!)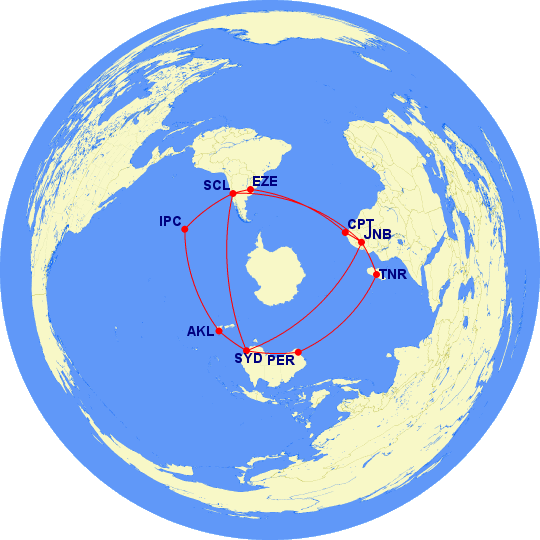 Now let's compare the flat-earth and real-world itineraries. Click on Next below.
< Previous | Menu | Next >