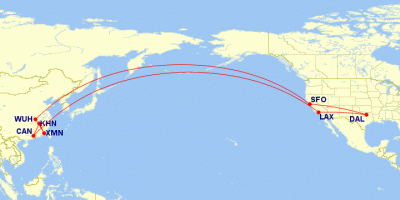 Fig. 1. (W) Y03_1122. Click on all the photos on this page for a larger view. When you see the enlarged photo, click on the "Back" or "Previous" button (<-) to return to this page. If you click on the "Exit" or "Close" button (X), you'll be returned to who-knows-where!
My wife flew to China ahead of me in late April of 2017. I flew over to China to join her in July. On Day 1 of MY trip to China (July 9-10), I flew from/to:
DAL (Dallas Love Field)
LAX (Los Angeles International)
CAN (Guǎngzhōu ("gwahng joh")). I landed in Guǎngzhōu on Day 2, July 11. (More pictures on Day 2!)
Do you ever wonder why airline pilots don't fly in a straight line on the maps? Click here.
Well, they actually do fly in a straight line — as much as they can. A straight line is the shortest distance from Point A to Point B. Flying the shortest distance possible saves the airline companies time, fuel, and money. This enables them to pass SOME of the savings onto us, the passengers. Read more here.
I generated the maps above with http://www.gcmap.com/.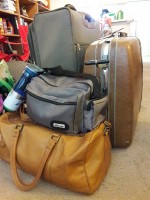 Fig. 3. W09_142752
All packed and ready to go.
2:27 pm Dallas, TX, USA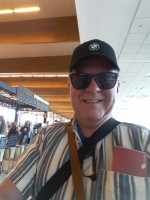 Fig. 4. W09_163015
Is this an American tourist, or what?
4:30 pm, Dallas Love Field airport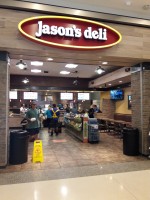 Fig. 5. W09_163139.
Dinner at Dallas Love Field airport. I normally like Jason's Deli restaurant. Here at the airport, however, the food was okay, but not great. And, it was a lot more expensive than a regular Jason's Deli. If you have time, eat BEFORE you go to the airport. You'll pay a lot less at a regular restaurant than at the airport! And of course, you'll pay even less at home.
4:30 pm, Dallas Love Field airport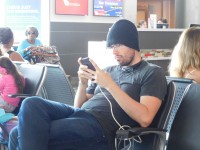 Fig. 6. W09-5901.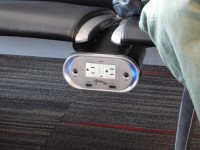 Fig. 7. W09-5903.
It's easy to "stay connected" at the airports and in many of the commercial planes in the U.S.
About 5:30 p.m., Dallas Love Field airport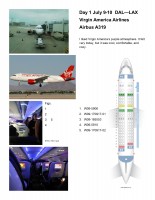 Fig. 8. W09-170917.
The plane from DAL to LAX, an Airbus A319.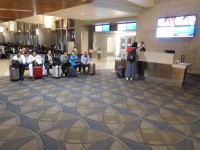 Fig. 9. W09-5916.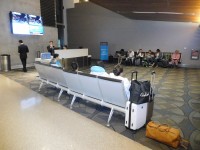 Fig. 10. W09-5924.
When I arrived at the Bradley International Terminal at LAX, I couldn't find my next flight! I was in such a panic! Where's my next flight? Where's my next flight? The announcement boards didn't show my flight anywhere. I asked many airline employees, where's my next flight??? Where's the China Southern check-in desk? And nobody could tell me! I even made an international call to China Southern Airlines IN CHINA to try to find my flight. Even they couldn't tell me! And I had only 30 minutes to catch my flight to China!
Finally, I found someone who told me something like this: "The planes going to Asia are really big, so they have to park at a special terminal to handle their enormous size. Go down this passageway, and maybe you'll find the airline and plane you're looking for."
I soon found the China Southern gate only 15 minutes before my flight was scheduled to leave! But there was no one around! Oh, no! Did I miss my flight? Did the flight schedule change?
FINALLY — and it seemed forever — people slowly started appearing at the gate area. FINALLY — and it seemed forever — the China Southern desk personnel slowly started appearing at the check-in desk. Finally, the departure gate started to look like Figs. 9 and 10 above.
When I talked to the check-in desk attendant, I finally realized I had arrived two hours ahead of everyone else! Talk about a senior moment or a senior couple of hours!
What happened was that, on the flight from DAL to LAX, I was trying to set my watch two hours back to Los Angeles time. E.g., 7:00 p.m. in Dallas was 5:00 p.m. in L.A. I couldn't figure out how to do it, so I gave up. (Get your teenager to do it for you!)
By the time I arrived at LAX, I had forgotten that my watch and my brain — what little was left of it — were still operating on Dallas time, two hours earlier. That made it look like everything was running two hours late at LAX. I was very embarrassed, but very relieved, to learn of my mistake.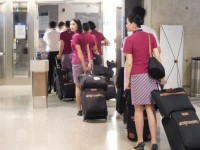 Fig. 11. W09-5921.
When the A-Team (the flight attendants) arrived, I started to feel better. "Hmmm. I think I'm going to enjoy this flight to China!" This is not a very good photo, but I certainly enjoyed the view! 🙂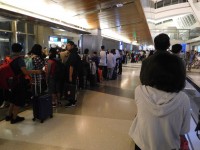 Fig. 12. W09-5928.
Finally it's time to queue up for boarding. Now I feel MUCH better!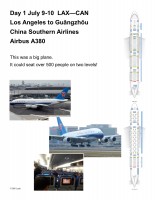 Fig.13. W09-232309.
My plane from LAX to CAN (Guǎngzhōu), an Airbus A380. This was a big plane. It could seat over 500 passengers on two levels!
Here's an article on the A380: http://www.businessinsider.com/airbus-a380-superjumbo-history-boeing-747-emirates-2017-11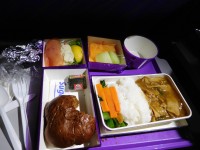 Fig. 14. W09-5946.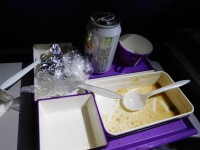 Fig. 15. W09-5949.
People complain about airline food, but over the years I've eaten pretty well on international flights. As you can see, I didn't leave any food behind! 😛
This was between 12:30 and 1:00 a.m., July 10, Alaska time (3:30 to 4:00 a.m., July 10, Dallas time).
End of Day 1 (July 9-10, 2017)