This is "ruff-ly" speaking our service area, in North Dallas, Plano, Allen, Richardson, Texas (TX), and surrounding areas. This is roughly the area we use to train you and your dog in your home and neighborhood. For a bigger view on your computer, click on the map below. To go back, click on the "Back" ( <- ) button, not the "Exit" ( X ) button. For a bigger view on your cell phone, expand with your fingers.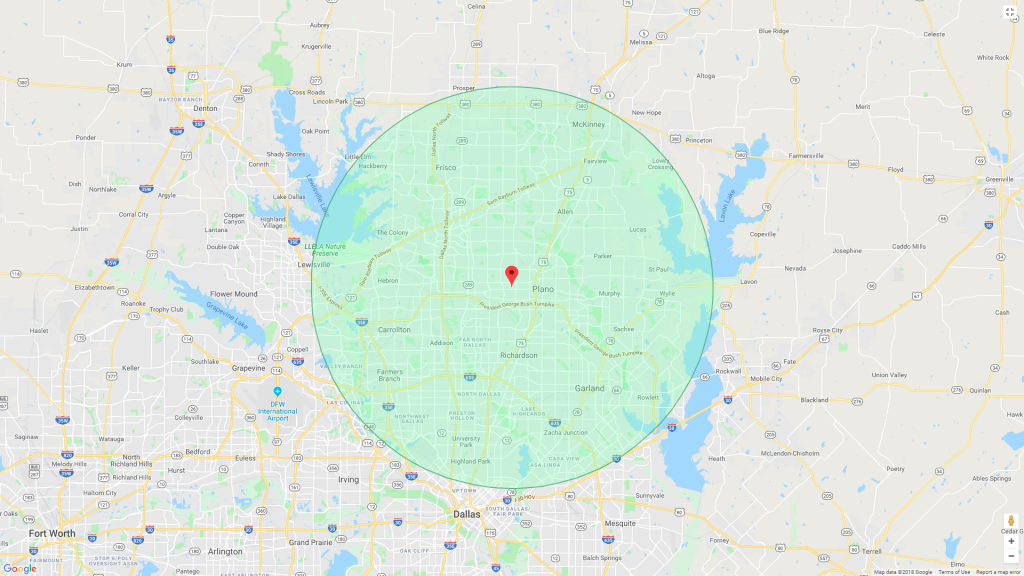 If you live in one of the zip codes listed below, you are definitely in our service area. Please contact us TODAY! to book your spot!
75001 Addison
75002 Allen
75013 Allen
75006 Carrollton
75007 Carrollton
75010 Carrollton
75011 Carrollton
75034 Frisco
75035 Frisco
75040 Garland
75042 Garland
75044 Garland
75045 Garland
75046 Garland
(Not all parts of Garland)
75070 McKinney
(Not all parts of McKinney)
75023 Plano
75024 Plano
75025 Plano
75026 Plano
75074 Plano
75075 Plano
75086 Plano
75093 Plano
75094 Plano
75080 Richardson
75081 Richardson
75082 Richardson
75083 Richardson
75085 Richardson
75030 Rowlett
75089 Rowlett
(Not all parts of Rowlett)
75048 Sachse
75056 The Colony
75098 Wylie
DALLAS ZIP CODES COMING SOON!
Basically, if you're within 15 miles (driving miles) of ZIP code 75075 (Plano, TX), you're in our service area! If you're outside of our service area, and you still want to use our services (THANK YOU FOR THAT!), please contact us TODAY! We may still be able to accommodate your needs. Our training calendar fills up very quickly. Please contact us TODAY!