Imagine a dog that . . .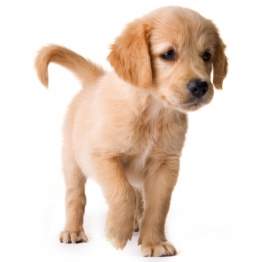 Poops and pees in the right place — instead of all over the place!
Sits automatically — instead of jumping on you and your guests!
Down/stays on its pillow — instead of begging at the table!
Walks nicely on leash — instead of dragging you all over the county!
Chews on its own toys — instead of your shoes or the couch!
Doggy & Puppy Elementary Classes
(Click here for locations and schedule)
These are six levels of basic household obedience. You learn how to train your puppy or adult dog to be well behaved at home and out in public. The topics we will cover in the classes include name recognition, Sit, Down, Off, Stay, Take It, Leave It, Drop It, Come, loose-leash walking, and much, much more.
Doggy and Puppy Elementary classes are open to all dogs and puppies 10 weeks of age and older. All dogs, including puppies, must be properly vaccinated and non-aggressive. Although we specialize in aggression, our group classes are not the proper venue for working on this. Click here for more info on dog aggression.
The American Veterinary Society of Animal Behavior (AVSAB) has written an article on the importance of puppy classes and socialization. If you're ever concerned about your puppy being out and about with other puppies, adult dogs, and people, and different environments, then please read this very important article. It will demonstrate that it is imperative to expose your young puppy to these stimuli and experiences at this critical time of their lives to avoid behavioral issues later on.
Please click here to read the AVSAB's statement on puppy classes and socialization. When you get to the AVSAB's Position Statements & Handouts page, scroll down to Puppy Socialization Position Statement and click the link. If you prefer, you may click here to go directly to the article on puppy classes and socialization. Please let us know right away if any of the links don't work.
Puppy owners, please note: Puppies 10 weeks of age and older are welcome and encouraged to attend the Elementary classes. Keep in mind that your puppy may be with older and/or larger dogs. All puppies – in fact, ALL dogs — must be up to date on the vaccinations required for their age. This will ensure that your dog is attending our classes in a healthy and safe environment. Consult with your veterinarian about your puppy's recommended vaccination schedule.
The first time through the course, we recommend you attend each level in sequence – Level 1 before Level 2, Level 2 before Level 3, and so on. Each level builds on top of the previous one. Afterwards, you can repeat each level as often as you wish, in any order that you wish, at no extra charge. You have an entire year to finish all six levels to your satisfaction. Even if you don't finish all six levels in one year's time, you can pay for another year to continue your training at your own pace. Many customers enjoy signing up year after year just because it's so much fun!
If you miss any classes, don't ever let that worry you. If you miss Level 4, for example, look on the Calendar for the date and time of the next Level 4 class. Just come back and pick up where you left off. Come back and start all over if you want, at no extra charge.
We highly recommend the entire family come if at all possible, including the children. When you have a dog in the house, you want everyone on the same page. Even children under the age of 10 are welcome to attend, but must be accompanied by an additional adult. This adult will be responsible for keeping the younger children under control and entertained at all times. These are dog-training classes, not child-rearing classes! ☺
Our training schedule fills up very quickly. Sign your puppy or adult dog up TODAY for group training classes and get a well behaved dog!
214-784-8520
What to Bring  to Each Group Class
Click here for list of items
Locations and Schedules
Plano, Texas (2 venues)
Training calendar