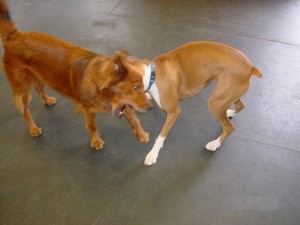 There are many people and books that can help you train your dog to come, sit, down, stay, etc. Of course, we, too, can help you with those behaviors, and many, many more! However, many of these sources wouldn't be able to help you with behavioral issues such as the following:
Aggression* (See below)

Dog-dog
Dog-human
Food-bowl
Toys
Leash
Favorite person

Small children or new baby
Separation anxiety
House-training
Chewing
Biting and nipping
Barking
Escaping
Jumping up
Pulling on leash
Humping
"Keep-away"
"Catch me if you can"
And much more . . .
*Aggression cases may be subject to an hourly surcharge,
at our discretion, depending on the severity of the case.
************************************************************
For help with your behavior modification
and training needs, please contact us today!

Phone: 214-784-8520
E-mail: pbcdallas@yahoo.com
Web site: www.pbcdallas.com
We're remodeling our Web site! Please pardon the mess. Check back from time to time to see what's new. Go ahead and take a look around. Please let us know how we can make our site better! More interesting! More informative! More fun!