Makeup Classes
By Jerry D. Patillo, CPDT-KA
© 2015 Phoenix Behavior Consulting
Everyone wants to commit to short-term and long-term activIties such as dog training, piano lessons, soccer practice, church, school, and even – ghastly! – work! But Life happens. You get interrupted all the time. We understand that. These disruptions interrupt the activities that are important for you, such as training your dog. 🙂
We highly recommend that you attend our group classes in order: Lesson 1 before Lesson 2, Lesson 2 before Lesson 3, and so on. Why? Because each lesson builds on the lesson you've attended before. You can't teach your dog Down/Stay, e.g., if it doesn't know how to lie down on command.
So, we've introduced our Makeup Classes to make it easy for you to make up the classes that you've missed. Call us to set up a time – make an appointment — to make up the class that you missed. Do NOT show up to a makeup class without an appointment! You don't want to come to a makeup class expecting to make up Lesson 5 when we're doing a Lesson 3 makeup.
When you book a makeup appointment, please do your best to honor your appointment. We're going to be there for you. Please, you be there, too. If, even at the last minute you can't come, at least call us to let us know. Please be courteous of our attempt to serve you.
Please let us know how the makeup classes work out for you.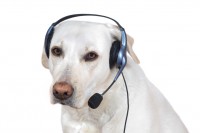 Contact us if you have any questions about our makeup classes. Call us to book an appointment for a makeup class.