. . . We Can Train Your Dog!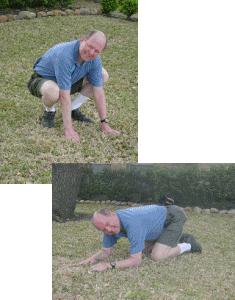 Even if we can't train you, we can still train your dog — for us. We can teach your dog to Sit, Down, Stay. We can teach your dog not to jump on us or on other people. But, if we cannot train you to stop rewarding the jumping behavior, we cannot teach your dog to stop jumping on you!
In order to get rid of undesirable behaviors, there are always two steps: (1) Remove the reward of the behavior you don't like; (2) Teach your dog the behavior you want it to do instead.
All of our methods of training are dog-friendly. There's never any jerking, yanking, choking, pinching, or shocking your dog. This is not permissiveness. Rather, we show you how to use positive reinforcement to establish yourself as the leader. We show you how to teach your dog to want to please you!
We can help you with the following services:
Aggression (dog-dog and dog-human)
Behavior problem solving
In-home training
Day training (we train the dog in the human's absence)
Human training (we train the human in the dog's presence!)
Pet sitting
Dog walking
For help with your behavior modification
and training needs, please contact us today!

Phone: 214-784-8520
E-mail: pbcdallas@yahoo.com
Web site: www.pbcdallas.com
We're remodeling our Web site! Please pardon the mess. Check back from time to time to see what's new. Go ahead and take a look around. Please let us know how we can make our site better! More interesting! More informative! More fun!