© 2011 Jerry D. Patillo, CPDT-KA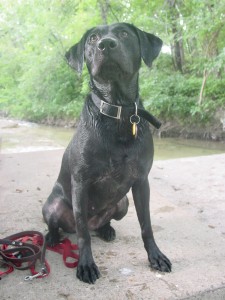 My Daddy is so much fun! He's teaching me a lot of new tricks such as Touch/Tap, High Five, Spin/Other Way, and Verse (reverse). He's teaching me Canine Freestyle, a fun doggy sport that's been around since the 1990s. Although some humans call it "dog dancing," there's no dancing – no chacha, rumba, or foxtrot. You could almost compare it to figure ice-skating. In figure skating, a human couple is performing various moves together, set to music. In canine freestyle, a dog-human couple is also doing various maneuvers together, all in synchrony to music playing in the background.
Freestyle is so much fun! The best part for me, a Labrador Food Hound, is that I get to scarf down a bunch of yummy treats! I can hardly contain my excitement when Daddy brings out the treats and clicker!
Another thing about freestyle is that it keeps me physically and mentally active. I hardly ever get into mischief (!) because I'm looking forward to my next training session with my favorite human. I love to learn new things!
I also get to consume a lot of delicious treats. (Oh, did I mention that already?)
If you'd like to see some examples of canine freestyle, please click on the following links. Please let my Daddy know if you run into a dead link or if you are redirected to an inappropriate site.
Who knows? Maybe I'll be on YouTube some day! 🙂
The last link shows Pam Martin and "Spy." They're with Top Dog Obedience Training in Garland, Texas (http://www.topdogdallas.com/Freestyledance.htm). If you'd like to get involved with canine freestyle, give them a call at (972) 494-7387. Please tell them that "Lady" with Phoenix Behavior sent you!
If you'd like to learn more about "dog dancing," please check out the links below.
Well, I'll go for now. It's time for my afternoon nap. I've got to get a lot of rest. I need to build up a lot of energy to explode onto my Daddy tonight, exhausted after a long day at work!
Until next time,
X O X O X O
Hugs and licks,

************************************************************
For help with your behavior modification
and training needs, please contact us today!

Phone: 214-784-8520
E-mail: pbcdallas@yahoo.com
Web site: www.pbcdallas.com