© 2020 Jerry D. Patillo
If you would like to circumnavigate the southern hemisphere, maybe you would like to visit the following destinations:
Sydney, Australia (SYD)
Santiago, Chile (SCL)
Johannesburg, South Africa (JNB)
If you're a flat earther – someone who believes the earth is round and flat like a pizza – then maybe you would choose something like the itinerary in Fig. 0615.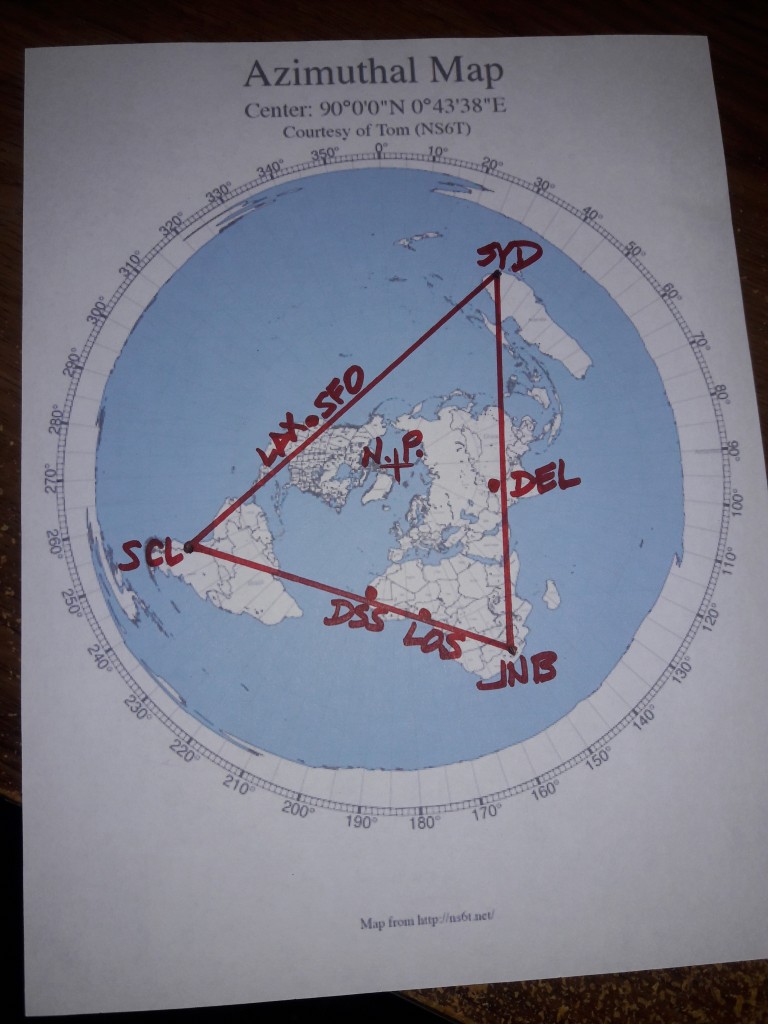 However, since modern commercial aircraft can "only" fly up to about 19 hours and 10,000 miles (SIN-JFK)*, you would probably have to choose layovers in:
Los Angeles (LAX) or San Francisco (SFO)
Dakar, Senegal (DKR or DSS) or Lagos, Nigeria (LOS)
Delhi, India (DEL)
or nearby airports.
*[https://www.emirates247.com/news/the-longest-flights-in-the-world-2018-10-11-1.674088]
So, your itinerary could look something like this, as an example:
SYD

SYD-LAX 7488 miles, 15h29m
LAX-SCL 5569 miles, 11h38m

SCL

SCL-LOS 5565 miles, 11h38m
LOS-JNB 2803 miles, 6h06m

JNB

JNB-DEL 4967 miles, 10h26m
DEL-SYD 6476 miles, 13h27m

Total: 32,868 miles, 68h44m (actual flying time, NOT including the layover and stopover times!)
As you can see, the flights above would really be long-haul. You could split them up into shorter, but more numerous flights, as shown below. You could come up with a different itinerary, but the following is just an example: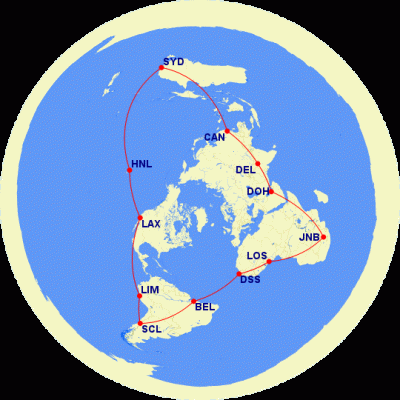 SYD

SYD-HNL 5067 miles, 10h38m
HNL-LAX 2556 miles, 4h54m
LAX-LIM 4167 miles, 8h50m
LIM-SCL 1524 miles, 3h33m

SCL

SCL-BEL 2635 miles, 5h46m
BEL-DSS 2417 miles, 5h20m
DSS-LOS 1492 miles, 3h29m
LOS-JNB 2803 miles, 6h06m

JNB

JNB-DOH 3862 miles, 8h13m
DOH-DEL 1589 miles, 3h41m
DEL-CAN 2272 miles, 5h03m
CAN-SYD 4664 miles, 9h50m

Total: 35,048 miles, 75h23m 68h44m (actual flying time, NOT including the layover and stopover times!)
Flat Earth Circum S Hemi.docx