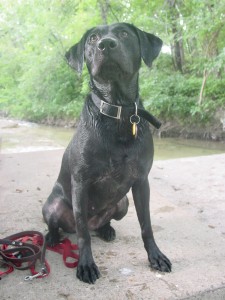 Don't tell Jerry's macho friends, but I think my daddy's gone frou-frou on us. He's now got me involved in dog dancing, of all things. It's called "canine freestyle" here in the States. It's also called "heelwork to music" in the U.K.
It's actually a lot of fun. Canine freestyle is obedience moves and tricks all set to music. The best part about it that I like is that I get to scarf down a lot of treats (yum!). Daddy's teaching me to move around his legs. "Finish" means I go around his right side and finish sitting between his legs. "Verse" (Reverse) means I back up between his legs. "Side" means I swing my cute little butt around (It is cute, right?) and end up sitting in heel position leaning against his left leg.
Check out the following links about canine freestyle. You will be blown away! 
http://www.youtube.com/watch?v=R286qV70goI
Did I mention that I get to inhale a lot of treats?
http://www.youtube.com/watch?v=qEbnJ-nPBSE&playnext=1&list=PL6A3DBD9012AD3975
http://www.youtube.com/watch?v=2co6FMLIkIQ&feature=BFa&list=PL62EE2BE2F931AA37&lf=results_main
I like treats.
http://www.youtube.com/watch?v=HqbVbPvlDoM&NR=1
Treats anyone?
http://www.youtube.com/watch?v=s413fl4dGUU&feature=related
The last link shows Pam Martin and "Spy." They're with Top Dog Obedience Training in Garland, Texas. If you'd like to get involved with canine freestyle, give them a call at (972) 494-7387. Please tell them that "Lady" with Phoenix Behavior sent you!
Don't forget – I like treats!
Until next time,
X O X O X O
Hugs and licks,

P.S. If you want to send me some treats, please send them in an unmarked dump truck to P.O. Box 835655, Richardson, TX 75083. I do not accept half-empty dump trucks. Well, okay. Maybe this time I'll make an exception! Shhhhhh! Here comes my daddy!