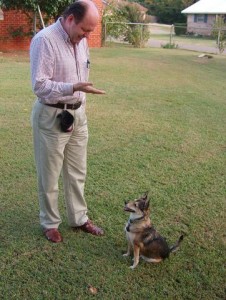 Jerry Patillo's objective is to save dogs' lives through the training and behavior modification of dogs and their humans. He specializes in undesirable dog behaviors including dog-dog and dog-human aggression and much, much more. Jerry believes in humane, dog-friendly methods of training. He uses:
Operant conditioning (emphasizing positive reinforcement)
Classical conditioning (changing associations, what a dog thinks or feels about various stimuli)
Counter-conditioning (instead of responding this way, do this other thing that's more desirable)
Desensitization (gradually reducing the dog's reactivity or discomfort in an aversive or undesirable situation)
Behavior Adjustment Training (BAT) (determining the function of an undesirable behavior and developing a more desirable behavior that serves the same or similar function)
And so much more!
Jerry has demonstrated countless times that treating undesirable behaviors is a two-step process: (1) Remove the reward of the undesirable behavior and (2) teach the dog what you want it to do instead.
Having trained the family dogs most of his life and horses as a teenager, Jerry has been training professionally since 2004. He became a Certified Pet Dog Trainer in 2006, and recertified in 2009 and 2012. He is currently pursuing becoming a Certified Dog Behavior Consultant (CDBC). Jerry is a Professional Member of the Association of Pet Dog Trainers (APDT) and a member of the Association for the Prevention of Cruelty to Animals (ASPCA).
Home > About Us > About Your Trainer!
************************************************************
For help with your behavior modification
and training needs, please contact us today!

Phone: 214-784-8520
E-mail:pbcdallas@yahoo.com
Web site: www.pbcdallas.com