© 2016-2017 Phoenix Behavior Consulting. This Web page is not a legally binding agreement or contract. It is our Guarantee / Warranty policy and is subject to change without notice.
Guarantee
We've been training humans and their dogs professionally since 2004. We feel very strongly that you will be happy with the results that you will receive from us. However, we cannot guarantee results because there are just too many variables involved with you and your dog that we have no control over. It could take weeks, months, or even longer to resolve your and your dog's issues. Your success will depend on your patience and commitment to our training regimen. Please see our Warranty below.
We do guarantee that our training methods coincide with commonly accepted methods practiced by thousands of dog-friendly trainers and behavior specialists around the entire world. We have no further guarantee beyond that, expressed or implied. For insight into our training methods and philosophy, feel free to visit every area of our Website. Also visit www.apdt.com, the Association of Professional Dog Trainers, for more insight.
Warranty
We will try our very best to ensure you receive the best training around. However, if you are dissatisfied for any reason with the first training session (group class or in-home training), you have up to 3 days (72 hours) after the end of the first training session to request a refund. After the 72 hours have expired, there will be no refund. You must request your refund by phone, text, or email. The refund shall be limited to the paid training sessions that you have NOT attended or participated in. You will not be refunded for any sessions that you have attended in full or in part. Whether you agree with our training philosophies and methods or not — whether you agree with our recommendations and suggestions or not — they're still valuable information. We cannot give this information away for free. Please allow up to 30 days to receive your refund.
We are committed to your dog-training success. Likewise, you must be fully committed to the full group-class or in-home training program, as well. If we can train you, we can train your dog!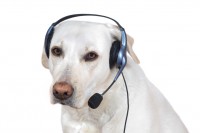 Contact us TODAY if you have any questions about our Guarantee or Warranty.