© 2014, Jerry D. Patillo, CPDT-KA
Phoenix Behavior Consulting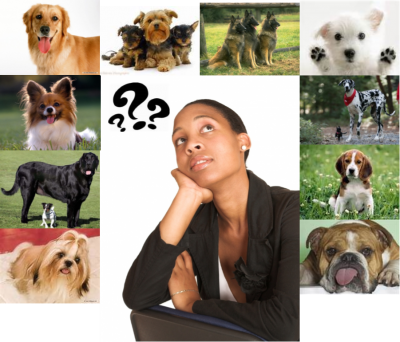 Thinking about getting a new puppy or adopting a new dog? PLEASE think seriously about your lifestyle and your family's lifestyle before getting a new dog! I can't tell you how many times I go into people's homes to work with dogs and families that were mismatched for each other!
Please visit all the sites suggested below to help you to find the best breed for your lifestyle. This is sooooo important. You don't want to get a couch potato of a dog if you like to run 3-mile jaunts every night. Please don't get a working breed such as a Labrador Retriever or Border Collie if you collapse onto the couch every night and get up after you've taken a nap. And, please — for God's sake AND yours — please don't succumb to the cuteness of an 8-week-old Bernese Mountain Dog puppy or St. Bernard puppy if you're 80 years old and weigh only 95 pounds! These cute little puppies will quickly grow into big puppies that you won't be able to handle anymore.
The sites below are not perfect. But that's okay. At least they will give you some breed suggestions that you might want to consider. You might keep seeing the same breeds appearing as possible suggestions for your family. If so, then they may, possibly, perhaps, by chance! be a good choice for you. After you come up with 3 or 4 possible choices, research the breeds' characteristics. Learn about each breed as much as you possibly can. Spend as much time as you can with each candidate breed to get a feel for what the breed may be like for you and your family. Find several animal shelters, breeders, and friends that have the breed you're thinking about. Although members of a specific breed will have similar characteristics, keep in mind that each individual dog will be individually different from the previous one.
As you go through each site's questionnaire, please be honest with yourself and answer each question as accurately and objectively as possible. Try to resist the temptation to slant the answers in favor of a certain breed. Yes, you just might come up with the breed that you think you want. The dog you think you want may not be the best breed for you and your family. Remember — garbage in, garbage out!
Please let us know if you encounter a dead link.
Picking the Right Dog for Your Health and Lifestyle — Victoria Stilwell
Animal Planet Dog Breed Selector

Choosing a Dog — Association of Professional Dog Trainers
Iams Dog Breed Selector — Coming Soon!
SelectSmart.com Dog Breed Selector
Once you've selected two or three breeds that might be good for you, then go to www.petfinder.com to search for those breeds and breed mixes in your area. Type in Location, Type, Breed, etc., and you'll be on your way.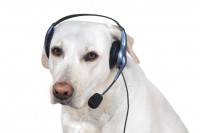 Good luck with finding your new best friend. And please consider Phoenix Behavior Consulting and Jerry D. Patillo, CPDT-KA, as your new trainer! Our training schedule fills up fast. Please contact us TODAY!